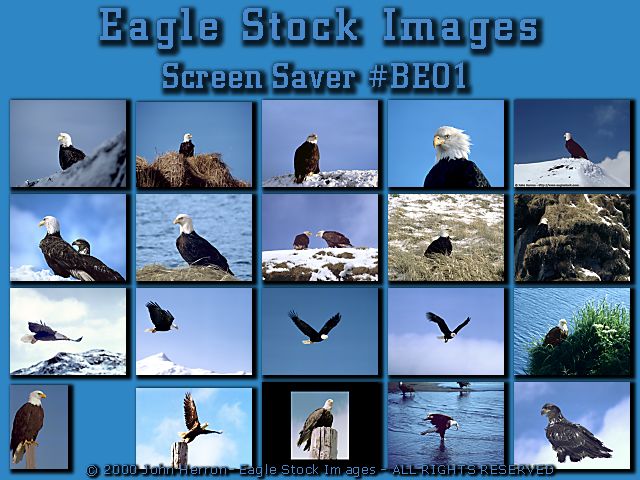 Now Only $9.99 !!
PURCHASE AND RECEIVE IT TODAY
Beautiful professional images, 20 crystal clear images in all! "The Eagles are MAGNIFICENT, the best I've ever seen! And they all have beautiful and colorful backgrounds. How did you do it?". The thumbnails above just don't do these photos justice! (Free version download below)
36 cool display and transition effects! Selectable through preview screen.
High Resolution images, shot on very high quality film. Beauty in, beauty out!
Very Easy Installation, everything is contained in just one file. And no questions to answer! Includes Uninstall.
Advanced software for fast loading images that look great. Images are in 16 million color (24 bit) format, but advanced software algorithms make the photos look great even if you're using 256 color mode!
Copyright notices can be turned off and there are no watermarks. Even the startup company flash screen can be disabled! Leaving you only Beautiful Photos.
Selectable shrink / enlarge images to fit any screen resolution.
Images can be selectively turned on and off.
Only $9.99 - Online Ordering Only
DOWNLOAD IT NOW!!!!

PURCHASE AND DOWNLOAD NOW!
You will receive a download link via eMail within a few minutes of your order (24 hours/day). Extremely easy to order and download. You can order securely online, by fax, or via the phone. Your choice. Don't worry about your download getting disconnected, you can try several times if necessary. DELIVERY GUARANTEED.
CLICK HERE TO READ LICENSE AGREEMENT.
BY SUBMITTING YOUR ORDER YOU ARE AGREEING TO BE BOUND BY THE TERMS AND CONDITIONS OF THE LICENSE AGREEMENT.
"How in the world did you get face to face with a flying Bald Eagle?"
Download a 3 Image version FREE BALD EAGLE SCREEN SAVER. Limited features, contains copyright information. Beautiful photos, gives you a taste of the full version above. (800k File)
Stay tuned! More wildlife screen savers coming soon. Plans are in the works for a Koala " Bear " screen saver, and a Kangaroo screen saver. And a scenic Alaska screen saver of outstanding mountains and Alaska flowers. Other wildlife CD's will follow, all will be awe inspiring or I won't release them.
---
Go to Eagle Stock Images:
Licensing Information
Request Quote for Commercial / Institutional Use
Bald Eagle photos - Page 1
Home Page
Email [ John Herron ]
---
Web: http://www.eaglestock.com
Email: John Herron
Fax: 612/677-3093