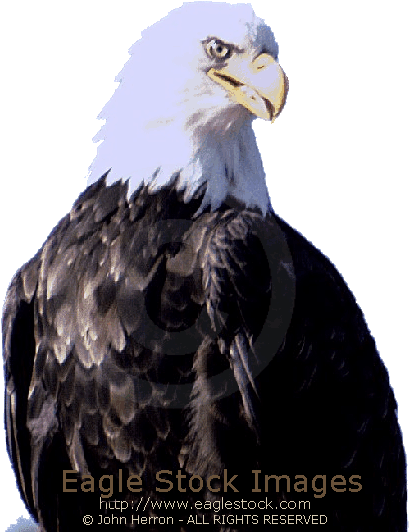 © John Herron - Eagle Stock Images
Image Name - BEBST1

Quite an expression. The image above has been separated from the original background. This is easy to do with most of the eagles here since most have fairly solid backgrounds. This makes it very easy to overlay an eagle on other art work. Very high resolution drum scans allow their use in the most demanding media. As always the original is perfectly clear. Taken in the wild. This image is available on our ROYALTY FREE PHOTO CDROM. Click here to enlarge full screen.
Click on the photo to enlarge full page, close the new window to return. Image contains light watermarks to help prevent unauthorized usage, we appologize for any inconvenience. These JPG files have been optimized for downloading and are not nearly as detailed as the original scans. We're using 20-30% JPG compression. You don't go from 10 megabyte files to 100k without losing something.
---
Go to Eagle Stock Images:
Licensing Information
Purchasing Prints
Table of Contents
Bald Eagle - Page 1
Home Page
Email [ info@eaglestock.com ]
---
Web: http://www.eaglestock.com
Email: info@eaglestock.com
Fax: 612/677-3093