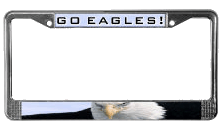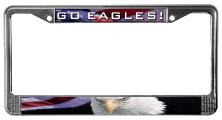 In addition to the stock license plates you can now customize your plates with your own text. Up to 13 characters which can be read from several car lengths (or 16 characters if you're willing to live with a 1-2 car length readability). Add your name, nick name, school name, motivational saying, etc. With sky background or flag background. No trademark names unless you own or are authorized to use it.

Unlike other companies custom merchandise these are fully returnable with a 100% satisfaction guarantee! Only $29.95

Ordering is easy. Click here . customplate@eaglestock.com . to order your custom license plate frame. Simply send me an eMail with your name, the text you want on the plate and whether you want the sky or flag background. Within 48 hours I'll send you a link where you can order your customized license plate frame.