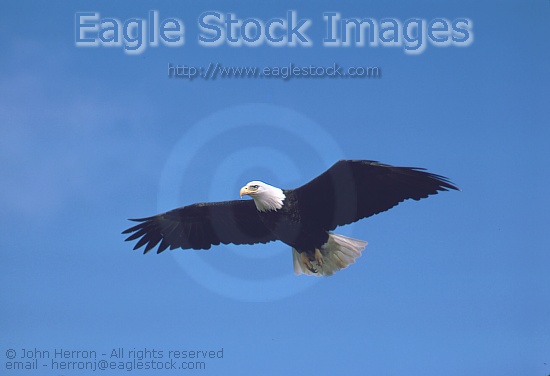 © John Herron - Eagle Stock Images
Image Name - BEF03
Purchase Print
Soaring Eagle photo. The drum scans of this image are crystal clear, as if the photo was taken in a studio. But as with all of my eagle photos - it was taken in the wild, of a wild bird, in its natural setting. The bald eagle can easily be separated from its original background to combine with any artwork you may have. You can order any size print up to 12x18" via a secure shopping cart. Or you can special order a larger size print of this image (prints contain no text or watermarks). This image is also available on the ROYALTY FREE CDROM.
If the image or background look splotchy you need to adjust your video driver to 24 bit color. Also keep in mind that the JPEG compression used for the web photos is fairly high. This causes loss of color detail. The original scans are as near to perfect as you'll find. ALL PHOTOS COPYRIGHTED, ALL RIGHTS RESERVED. No photo may be used commercially without written permission of Eagle Stock Images.
---
Go to Eagle Stock Images:
Licensing Information
Purchasing Prints
Table of Contents
Bald Eagle Photos - Page 1
Home Page
Email [ info@eaglestock.com ]
---
Web: http://www.eaglestock.com
Email: info@eaglestock.com
Fax: 612/677-3093